When you connect a custom domain to your site, you're changing its DNS (Domain Name System) settings. These changes can take anywhere between 24 and 72 hours to start working properly. Domain providers refer to this waiting period as "propagation time," or the time it takes for changes to update throughout the web.
The exact timing depends on many factors and isn't something Adobe Portfolio can control or expedite. If you've entered all records correctly and your domain isn't working right away, the best course of action would be to wait. 
Please note: You can and should check the status of your DNS records to make sure they are set up correctly. There are two ways you can do this:
1) Head over to your Portfolio > "Settings" > "Domain Name" and input your URL in the section that says "custom domain name". Hit "Apply" and if you receive green text, you have set this up successfully. 

2) While you wait, you can check your domain's progress by using Whatsmydns.net. If you're still seeing an issue with your domain after 72 hours, submit a ticket to us and we can look more into it. 
 GENERAL DNS/CUSTOM URL INSTRUCTIONS: 
If you already have a custom domain registered, you'll first need to point your URL to your Portfolio. To do this, you must modify your domain's DNS settings. This step will be done through your DNS provider, not through Portfolio. Completing this is a bit different for each service, but it will likely consist of:
- Modify the default A record for your host name (yoururl.com). The A record should be set to the IP addresses listed in your Portfolio Settings.
- Modify the A record for your "www" subdomain (www.yoururl.com). This A record should also be set to the IP addresses listed in your Portfolio Settings
(A Record stands for "Address Record." This is a type of DNS record that can be used to point your domain name to a static IP address.)
*PLEASE NOTE: We provide you with two IP addresses in your website settings. The second IP address is an alternate, and not all DNS providers support two.  
This is what a correct DNS set up looks like (will vary depending on what DNS provider you choose) 
-Finally, enter your Custom Domain in the Portfolio editor, in "Settings" > "Domain Name". Enter your Custom Domain and click "Apply"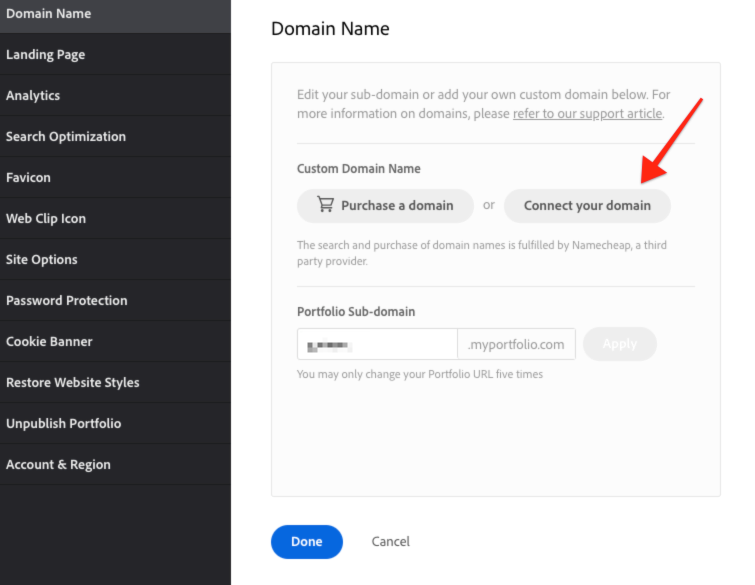 Below are links to DNS-related articles for a few popular domain host services. Should you encounter issues regarding how to adjust A Records and other DNS settings, these will be a great first step to getting them solved!
FAQ Links to Common Hosts: