Your personal website is one of the most important things to "get right" in your creative career, but how do you get started? Create a beautifully simple website to showcase your creative work using Adobe Portfolio. Harness our simple, flexible customization tools to create your dream website that will help your work get noticed and get you the exposure you deserve.
Follow a few key steps to build a website that showcases your creative work (in any field), create compelling projects, and customize the design of your site to emphasize your strengths and find the right clients.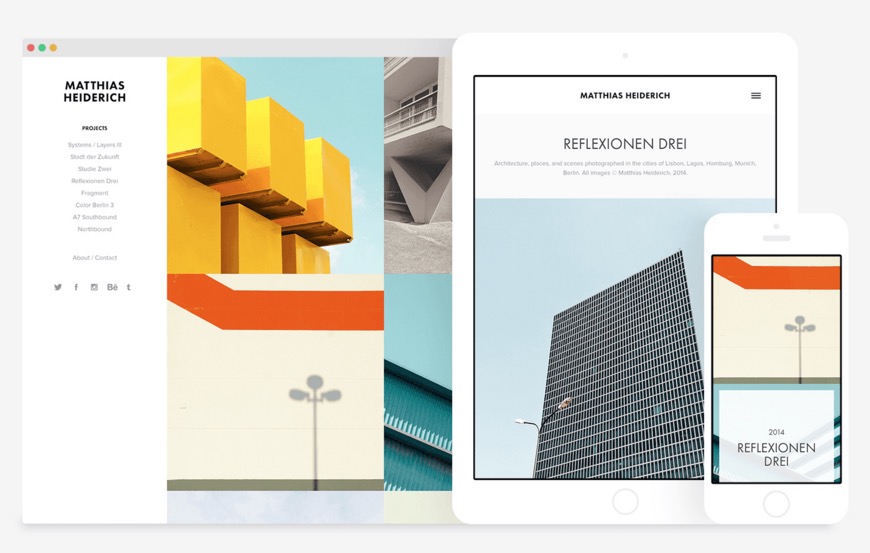 ____________________________________
Step 1: Select a Theme
Visit www.portfolio.adobe.com and get started by choosing from a selection of Themes optimized to showcase your creative work. Your Theme is the foundation to building your Portfolio, so choose one as a starting point, but note that you can switch to a different Theme at any time.


____________________________________

Step 2: Add Media to Showcase Your Best Work

Before Starting:
Before you begin uploading your work, take a step back and curate. Your portfolio is only as good as your worst image. Remember, this is your portfolio website, not your external hard drive, so make sure that only the best of the best gets uploaded publicly.
Set a high bar by showcasing the type of work you want to do in the future. If you're now a graphic designer, but you used to be a photographer, limit the amount of photography you show, since you're looking for design offers. Always remember, a few great projects is better than a ton of decent ones. It's not about quantity. Often, seeing one bad project can negate all the good projects viewed.

How-to:
To add a Page, click the "+" icon on the left hand column of your Portfolio editor. You can also click the "+" icon in the lower right of your Pages menu. From there, select your type of Page, then add your files and any other content you'd like to display.
A few tips for uploading images:
Use eye-catching images, and lead with a powerful, overview image of the work. Present the whole piece first, followed by more detailed shots.
Select more than five images, but don't be exhaustive. Show the highlights of the work without going overboard.
Share the backstory: insight into the creative process gives context of the work and creates a memorable story about the work.
For examples of how exceptional showcased work are structured and presented, visit Behance.net and click into a few featured projects.
____________________________________
Step 3: Organize your Pages into Collections
Depending on the number of pages in your Portfolio, consider creating multiple Collections. Create a second Collection to showcase work you've done in a different field - like Graphic Design vs. Illustration - or perhaps distinguish in another way - like Client Work vs. Personal Work - by creating two or more Collections.
Or, like in the example below, create a highly curated "selected works" Collection to set as your landing page to lead with your very best work.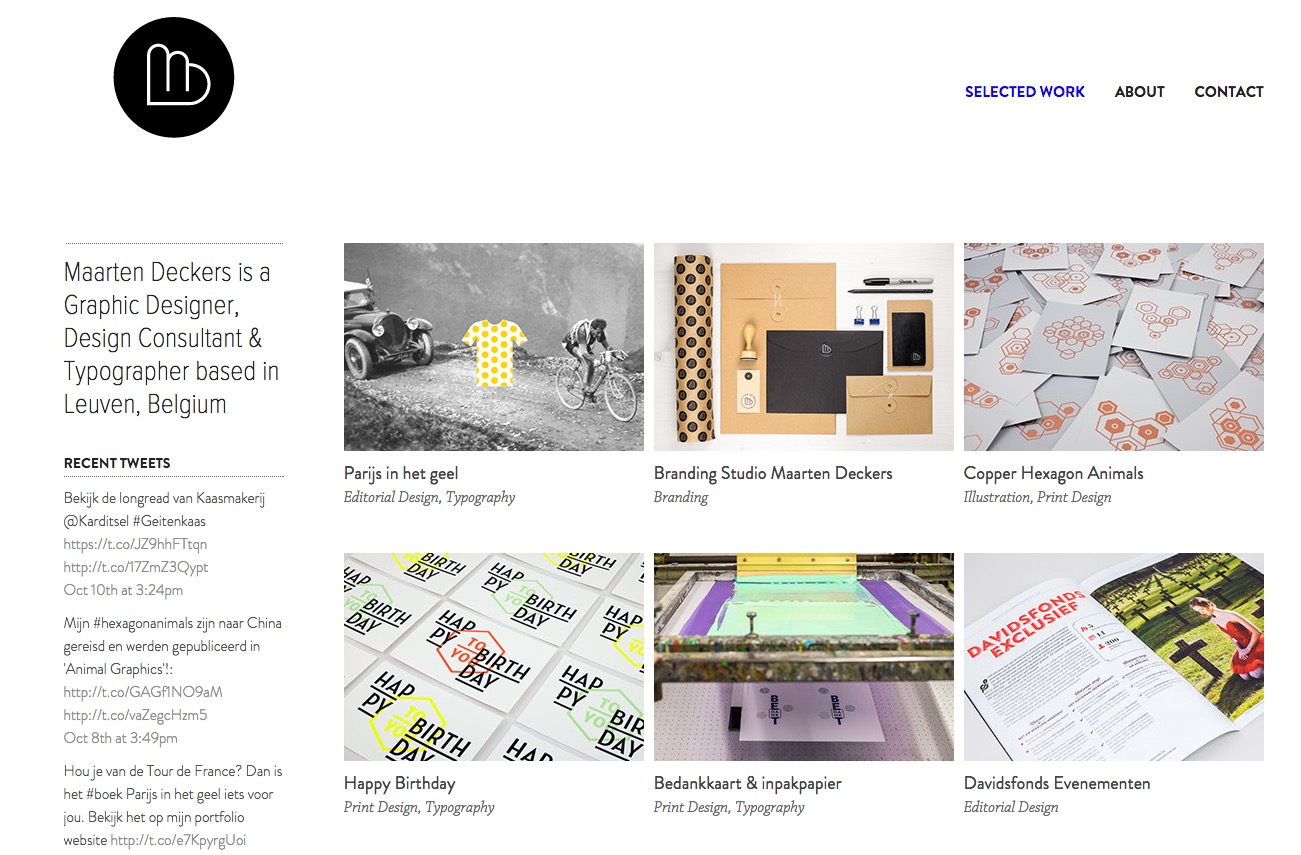 How-to:
Once you have a handful of Pages, create a second Collection by using the "+" icon in the left side bar (or from Pages tab), and create another Collection by naming it, then choosing what Pages will be included in it. From there, you can use the Pages icon at any time to manage which Pages appear in which Collections by toggling them on/off, re-order within a Collection, rename, or make any other customizations you'd like.
____________________________________

Step 4: Design your Site


Now that you have the backbone of your site done - a Theme, and a beautiful, curated set of Pages - it's time to adjust the design of your site to create the look and feel you're going for. All of your site elements are adjustable via the floating Remote (accessible on all Pages, default is on the right side). As you approach your design, remember a few important tips.

Don't let the site design upstage your work: Keep your portfolio design simple, and let your work take center stage.Your work should be the focal point, not the design of your site. Don't clutter it up with pointless design elements.

Simple Navigation: Most website visitors spend less than a minute browsing, so make your site simple and impactful right off the bat. Start with the basics: a home Collection, an About Page, and a Contact Page. Simplicity and navigability will push your work to the surface, where it should be.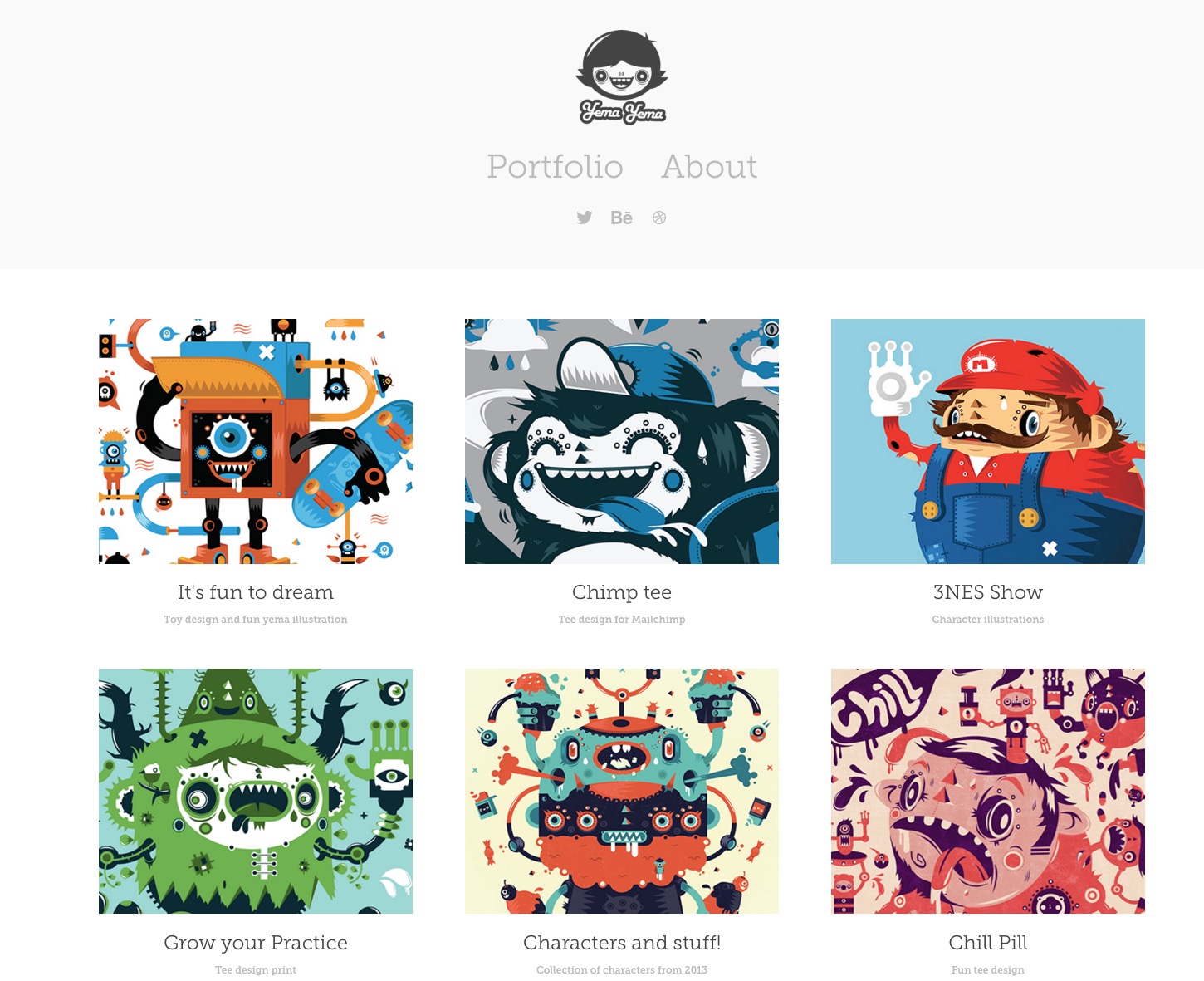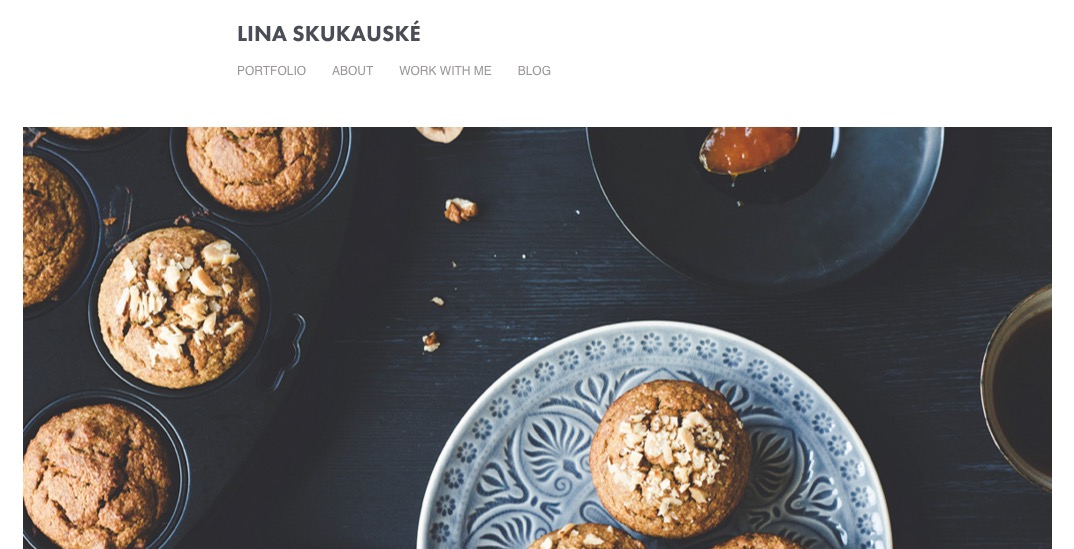 How-to: design the look and feel of your site:
When it comes to design, at any time, you can use the left-hand panel (accessible on all pages), to control all aspects of layout and design. You can adjust anything on a page level, a collection level or a site wide level. Depending on which type of Page you're editing, you'll see either a Page or Collection page styles, in addition to the Site Wide options which will allow you to adjust something for the entire site at once.


Overwhelmed by options?
Visit Design and Customizations for a more comprehensive guide on design features, but to get started, we suggest starting with font and colors. Choose your Global Font Settings - perhaps you'll have a basic one for Page content, and a slightly bolder choice for Navigation or Page titles. Then, you can select colors for any elements you'd like. If you click the "Background, Colors & Font" tab within the floating Remote, you can kick off with a pre-defined theme:
____________________________________

Step 5: Tell your Story: About and Contact Page

If your Portfolio includes a Collection of work, an About Page and Contact page, you'll have all the essentials covered. When crafting your About Page, avoid the temptation to simply treat it like a resume. Telling a story is much more intriguing than a list of your past jobs, and gives the viewer a memorable and comprehensive sense of who you are.

Did you have an experience early in your career that lead you to pursue a passion or shape your creative direction? How did you get where you are today? Your About Page is where your personality can shine beyond your design choices, so take advantage of this opportunity.

How-To: To begin your About Page, click the "+" icon in the toolbar, select "Page", and begin adding your content by clicking the + icon within your page. Create a Contact Page the same way, and be sure to include a simple way to get in touch with you, and any other info you'd like potential clients to know off the bat.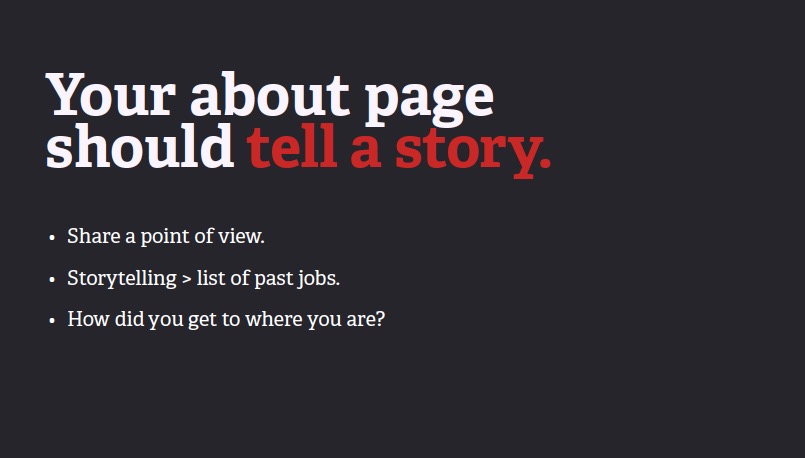 ____________________________________

Step 6: Launch Your Site! (and Update Regularly)
You're ready to publish! Click the "Publish" in the left-hand panel to make your site live. When you make changes in the future, remember to click "Update live site" so those changes are reflected on your site. Adobe Portfolio comes at no further cost if you're already subscribed to a paid Creative Cloud plan.
As you continue to add to and edit your site, don't let it get cluttered. Remember that simplicity in the interface and visual design of your site will push your work to the surface, where it belongs.
Most importantly, always think of your Portfolio site as a living, breathing document. As you progress and create new work, you should be updating your site. Never let it get static. So, make it a part of your process: as you finish up a creative endeavor, upload new work.
Your Portfolio is your creative shop window: it's always on, 24 hours a day, and it's always working to showcase who you are and what you can do. Now that yours is live, it'll start working for you, and getting your work in front of the eyes that will make a difference in your creative career.